The newly opened "Cocina de Alvalle" is 40,000m2, has three production lines and a team of approximately 150 people who take care of the creation of the gazpachos, made from fresh vegetables of 100% local origin.
The new plant uses sustainability technology that will allow for a more efficient operation, reducing water consumption by 30% and energy consumption by 20%.
MURCIA, Spain, June 8, 2020. Alvalle, the brand of gazpachos owned by PepsiCo, has already begun operations from its new plant, "LaCocina de Alvalle" from which it will produce more than 25 million liters of gazpachos, during this summer season.
The company announced an investment of 31 million euros in 2017 for this new 40,000m2 facility, located in Alcantarilla, Murcia. The facility will have three production lines (expandable to a fourth) with an increased capacity of 50% more than its previous plant. In addition to increasing production, the plant was also designed to "produce more using fewer resources" and so from the fields to the final packaging, all processes have been devised to be much more efficient and environmentally sustainable.
Alvalle, a leading brand in the category of refrigerated gazpachos in Spain, has a premium quality product thanks to the selection of the best fresh raw materials and process innovation to guarantee maximum freshness. Every year, Alvalle uses around 29 million kilos of vegetables of 100% local origin, sourced within a radius of 200km from the plant located in Alcantarilla (Murcia). The tomatoes, peppers and cucumbers are picked in the fields of Murcia, Alicante and Almería; the onion in Valencia and Córdoba; and the 100% extra virgin olive from Córdoba and Jaén. 98% of vegetables are picked by hand, generating around 500 indirect jobs in agriculture.
A plant at the forefront of sustainability
The new plant has the highest standards of efficiency and innovation, and is designed to use the minimum amount of natural resources required.
Victor Pérez, Supply Chain Director, PepsiCo South West Europe commented: "In the design of the new Alvalle production facility, sustainability has been one of the key parameters. We are well aware of the water shortage in Murcia and our intention is not only to minimize the water needed for the production of gazpacho but also to return 100% of the water used to the Segura basin."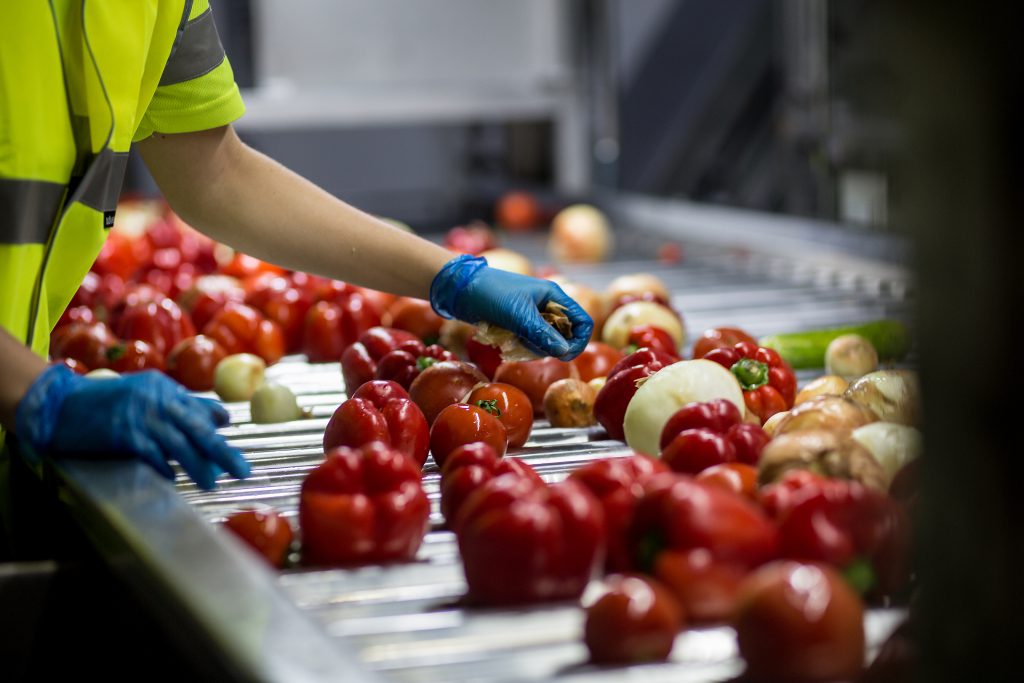 In the last ten years, Alvalle has managed to reduce water consumption by 60% and energy consumption by 37%. Now with the sustainable design of the new plant, the application of technology, and the cutting-edge equipment, its operation will be even more efficient, being able to reduce water consumption by an additional 30% and energy consumption by 20%, compared to the previous plant. In addition, it has also managed to reduce electricity consumption by 45% and gas consumption by 55% and has become a plant with virtually zero waste.
Among the main improvements of the new Alvalle facility is the use of natural lighting, the high efficiency of energy equipment in all areas, and the recovery of rainwater that can be used for garden irrigation and road cleaning. The new plant uses electricity from 100% renewable sources and also incorporates high-efficiency boilers with heat recovery, high-efficiency cold systems, solar panels for hot water and photovoltaic panels for electricity generation. The production site also uses automated, high-efficiency water purification and a system of control and monitoring of all energy and water consumption from the process lines.
Gazpacho as an ambassador to the Mediterranean Diet and traditional Spanish cuisine
Alvalle is looking to respond to the growing number of consumers who want to follow a healthy diet but have little time to cook. More than 50% of Alvalle Cuisine production is exported to European countries such as France, Belgium, Portugal, Germany, the Netherlands and the United Kingdom. However the main international market for Alvalle is France where the brand is the leader in the cold soup category. With this new plant, Alvalle is aiming to extend its presence both in the internal Spanish market and in other international markets, supporting the increase in vegetable consumption and making the brand an ambassador for the Mediterranean diet and Spanish cuisine.
About Alvalle
Alvalle was born in Murcia in 1991 and became part of the PepsiCo family in 1999. It is currently the leading brand in the category of branded refrigerated gazpachos in Spain. Alvalle only uses carefully selected natural ingredients to make traditional recipes resulting in a high quality product. It has a wide range of products including, the Original Gazpacho, Gazpacho Suave (no cucumber), Salmorejo, Gazpacho Andaluz, Ajoblanco and Gazpacho Gourmet with almonds.
About PepsiCo
PepsiCo products are enjoyed by consumers more than one billion times a day in more than 200 countries and territories around the world. PepsiCo generated more than $67 billion in net revenue in 2019, driven by a complementary food and beverage portfolio that includes Frito-Lay, Gatorade, Pepsi-Cola, Quaker and Tropicana. PepsiCo's product portfolio includes a wide range of enjoyable foods and beverages, including 23 brands that generate more than $1 billion each in estimated annual retail sales.